Artist Guidelines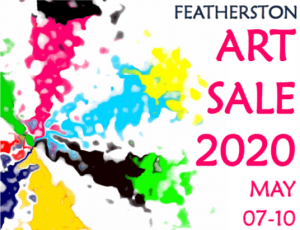 Featherston Art Sale, 7 – 10 May 2020
Featherston Community Centre, 14 Wakefield St
Eligible work
The event showcases Wairarapa artists, celebrates community and supports the Community Centre.
Artwork must be by a Wairarapa artist or an artist associated with the Wairarapa.
Artwork must not have been shown in a previous Featherston Art Sale.
Any theme or medium is possible, including outdoor artwork.
What does it cost to enter?
There is no fee to register. If your art sells, the community centre will take a 30% commission. We would be chuffed if you donate a larger commission.
How do I register?
Registration Deadline is 5pm, Saturday 18 APRIL 2020.
What art will be selected for the sale?
Acceptance of any or multiple pieces is at the Art Sale Committee's discretion. We will let you know if your work is selected by Tuesday 21 April.
Images of your selected artwork may be used for promotional purposes.
All Artists selected to show will be given two complementary tickets to the gala opening.
How do I deliver pieces selected for the sale?
All selected artwork must be delivered to the Featherston Community Centre, 14 Wakefield Street on Tuesday 5 May between 1pm – 3pm or 6pm – 8pm.
Each piece must have a label attached to it with Artist, Title, Medium and Price
(Please note -we will use our own label for the show – this is to help us sort the work pre-show).
Art for the wall must be framed and/or have D-rings with cord or wire on the back.
Please don't ask us to accept art that is not ready to be hung/displayed.
Do I need to insure my artwork?
Insurance is the artist's responsibility. All reasonable care will be taken with the works but the Featherston Community Centre cannot be held responsible for any loss or damage.
After the Sale
All unsold artwork must be picked up between 4-5pm on Sunday May 10. There is a $10/day storage fee for uncollected artwork. Artwork stored beyond 3 months will become the property of the FCC.
If your artwork has sold, your proceeds will be deposited into your account by Friday 12 June 2020 at the latest.
If you have questions, please ring Maud Bot on 027 527 8928 or email us at featherstonart@gmail.com.